The holidays are coming and along with all the sleigh bell jinglin' and hall decking comes the stress of finding the perfect gifts for your loved ones. Should you get your cousin Jay another fancy bottle of gin? Does Aunt Marge really want another framed photo of her bulldogs? And what to give that book loving niece/nephew (or sister, brother, mother, father, husband, wife, child) of yours? Another generic gift card? NO! Let us help!
Here at Writers & Books, we are all book lovers (duh) and we do enjoy a good book as a gift. A gift certificate is also fun as it allows us the freedom to choose a book that suits our fancy. But there are lots of fun, quirky, and cool gifts that you can give your literary loved one this holiday season (or yourself! Don't ever forget to #treatyoself)!
Wearable Literature by Storiarts on Etsy: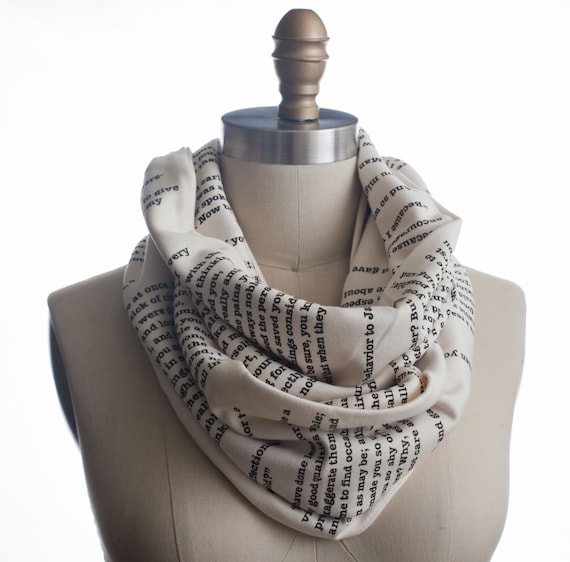 For the stylish literati in your life.
Creative Bookends from Design My World: 
For the literati with a sense of humor.
A Literati T-Shirt from Writers & Books:
Nothing says "proud to be a lover of words" like a shirt that literally says you are proud to be a lover of words.
Paper Passion Perfume from Steidlville: 
Love getting a whiff of old books? Now you can smell like them! 
A Really Nice Pen from ParadisePen: 
Who knows…your gift could write the next Great American Novel.
An EvenOdd  Recycled Vinyl Bag from Writers & Books: 
How about a Writers & Books vinyl tote bag? Even Odd creative fabrics has taken our past event banners (including "Big Read" and "Fall Festival of Reading") and made them into one of a kind bags!
Bookshelf from Ikea: 
Who doesn't need more room for all those books?
A TypeWriter for iPads from Austin Yang:
The perfect blend of tradition and technology.
Literary Shoes by CustomMadeKylee on Etsy: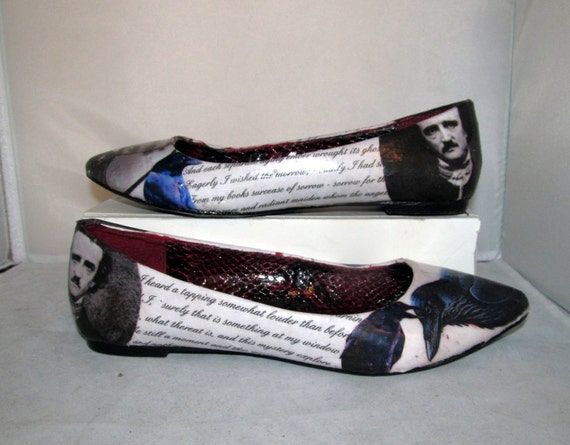 These shoes were made for walking…and reading.
A Turning Pages Readers Circle Membership from Writers & Books: 
Turning Pages Readers Circle is a new level of membership and a unique way of discovering books while also supporting Writers & Books programming. Four times a year a book will arrive in your mailbox, each one selected by someone intimately involved with the literary world. Specially wrapped by our staff, the package comes with a note from an author affiliated with Writers & Books (previous contributors include Ann Patchett & Anne Panning) as to why they picked this book to share, and an invite to a special readers event surrounding the text. The Turning Pages Readers Circle Membership is a great gift for the reader in your family!
Throw Pillow from Twirlocity on Etsy: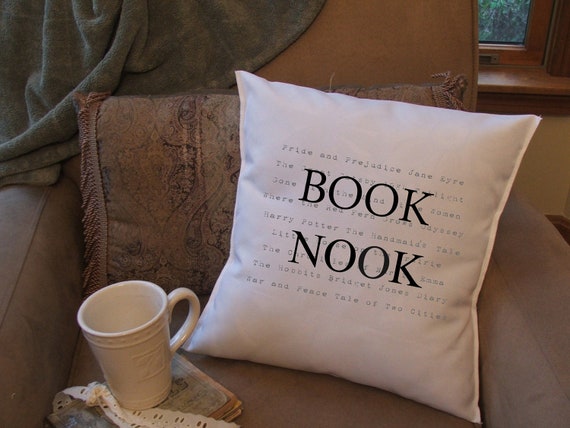 Nothing like snuggling up with a good book on a comfy pillow.
Book Jewelry on Etsy: 
Loving literature has never been so chic.
Shakespeare Phone Case from CafePress:
To text or not to text, that is the question.
A Gift Certificate for a Writers & Books Class:
We give classes for creative readers and writers ages 5-105. Check out our winter catalog here and give the reader or writer in your life, the gift of our creative community. 
Literary Mugs from The Literary Gift Company: 
If you know a reader or writer, then you know a coffee/tea addict. Let them sip in style with these awesome mugs.
Literary T-Shirt or Sweater from OutofPrintClothing:
Eat, sleep, read, and wear literary clothing.
Happy Holidays!